TRANSFORM YOUR BACKYARD INTO A SKATEPARK WITH OC RAMPS' DIY SKATE RAMPS, GRIND RAILS & BOX KITS
Welcome to OC Ramps, the USA's #1 skatepark builder and manufacturer of DIY skateboard ramps, grind rails, and box kits. Since 1997, we've been stoked to help 100k+ skaters bring the thrill of skateboarding right to their homes.

Your days of searching for "skateparks near me" are over! Imagine having your very own mini skatepark right in your backyard, ready for action whenever you and your friends (or kids) are. Made by skaters, for skaters, and all skill levels - our skate ramp and rail kits are durable, easy to assemble, and built to last a lifetime of shredding.

‏‏‎ ‎‏‏‎ Get your ramp or rail today and get free shipping anywhere in the US.‏‏‎ ‎
Free Domestic shipping - Over 600 5-Star Google Reviews - Over 100K Ramp Kits Sold - World's leader for skateboard ramp manufacturing - Free Domestic shipping - Over 600 5-Star Google Reviews - Over 100K Ramp Kits Sold - World's leader for skateboard ramp manufacturing - Free Domestic shipping - Over 600 5-Star Google Reviews - Over 100K Ramp Kits Sold - World's leader for skateboard ramp manufacturing -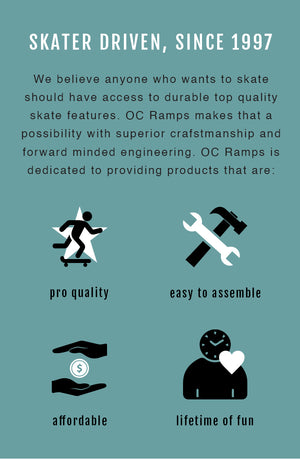 WHY THE PROS LOVE US
HEAR FROM PRO SKATERS WHO CAME TO OC RAMPS TO DEVELOP THEIR SIGNATURE PRODUCTS
WANT MORE OF OC RAMPS?
Sell
Sell our Kits and become an OC Ramps Dealer. Earn more by sharing your skate passion by offering our products.
GIVE ME MORE INFO
BUILD
Ready to build a custom skate park on residential or commercial property? You're in the right place!
I WANT THIS, LETS TALK
RENT
Need a to rent a ramp? OCRamps has you covered for events, demos and production + filming purposes.
I NEED THIS, LETS TALK