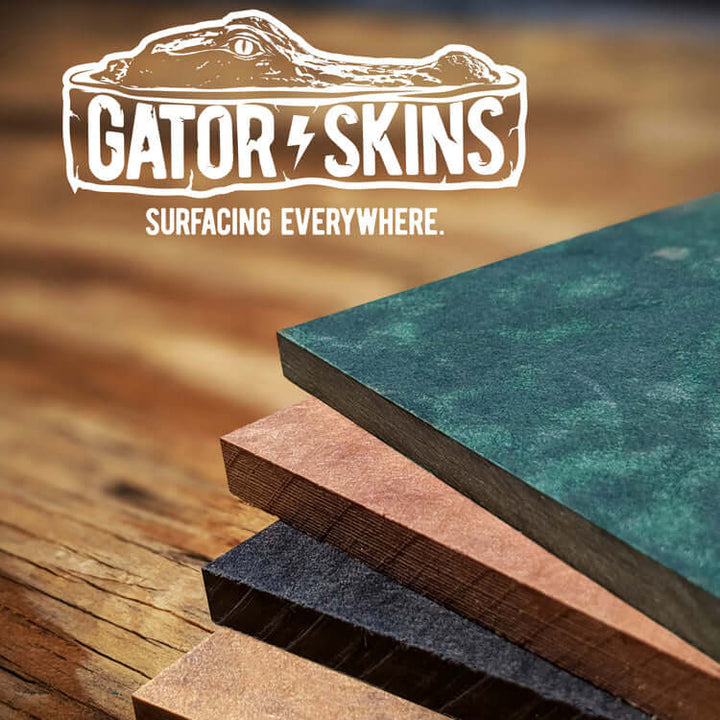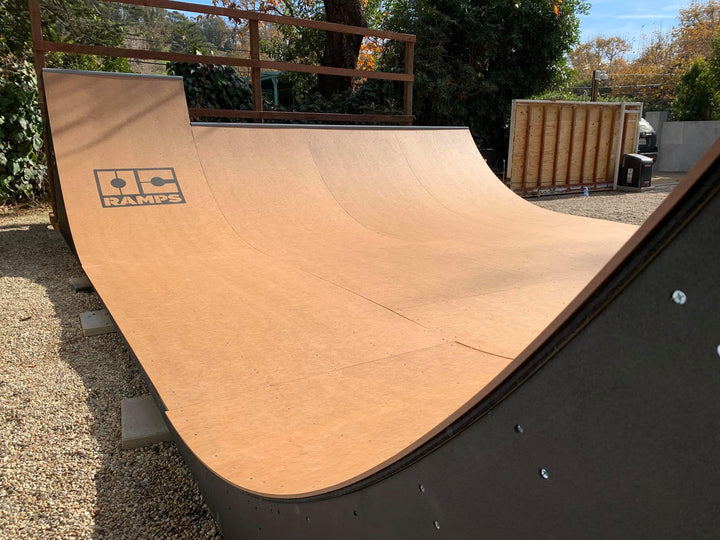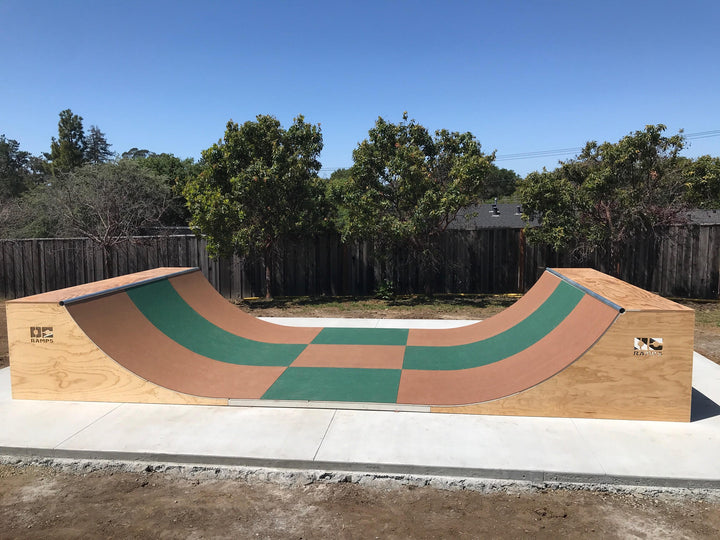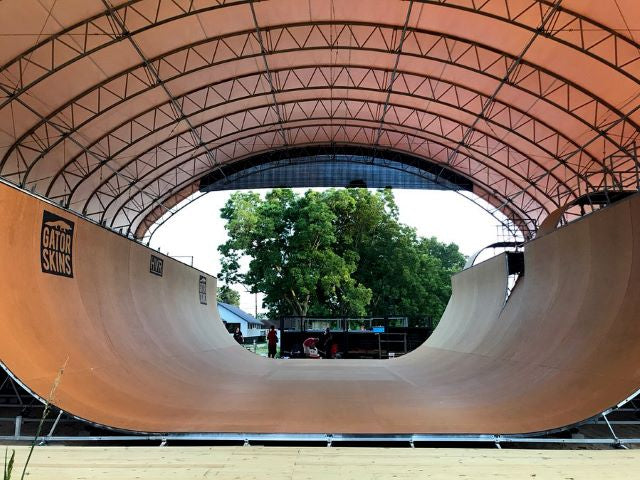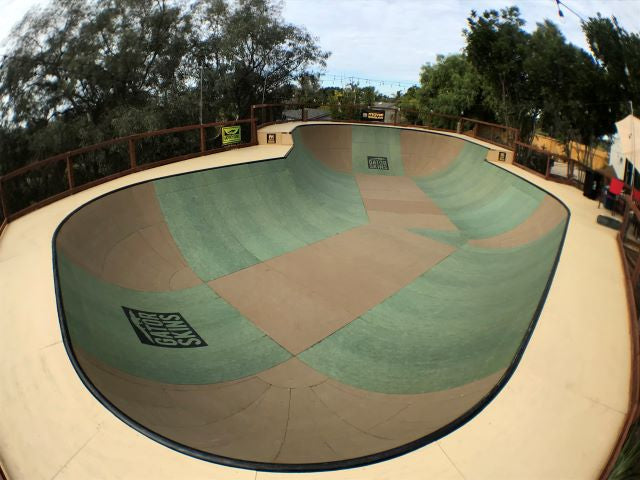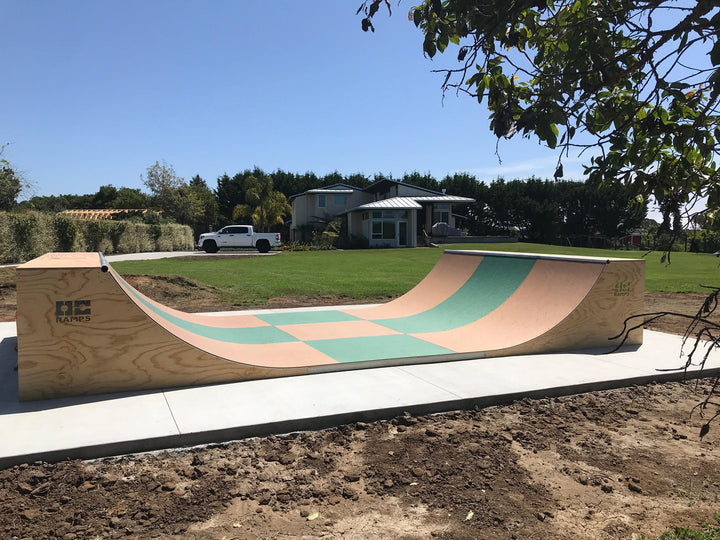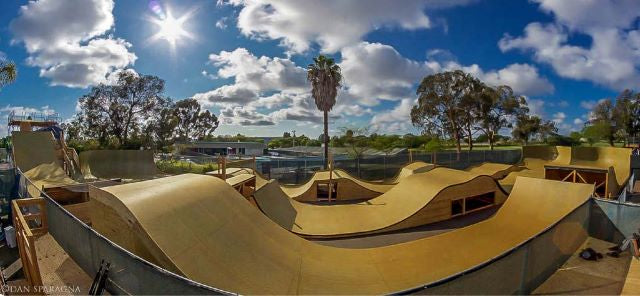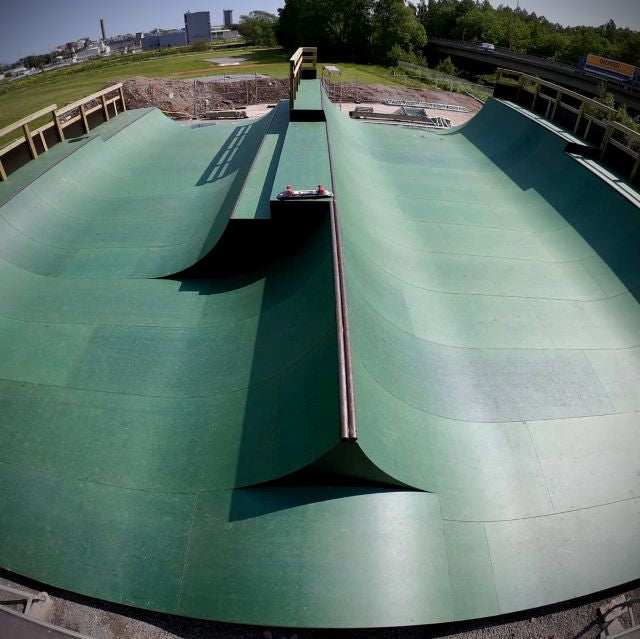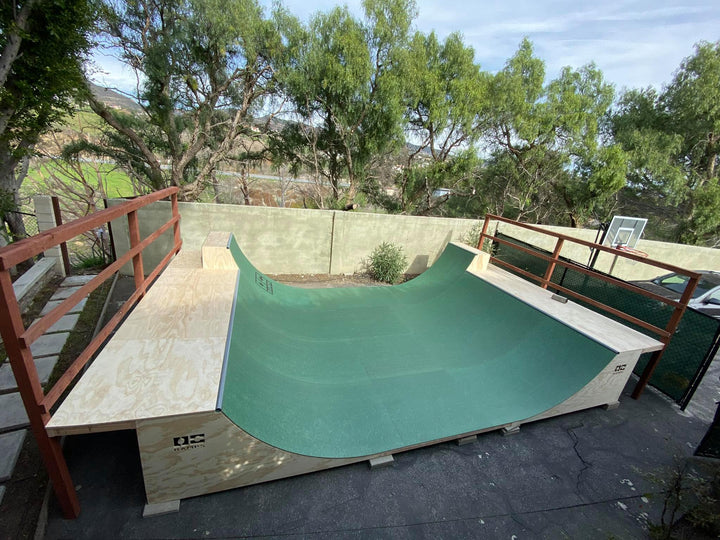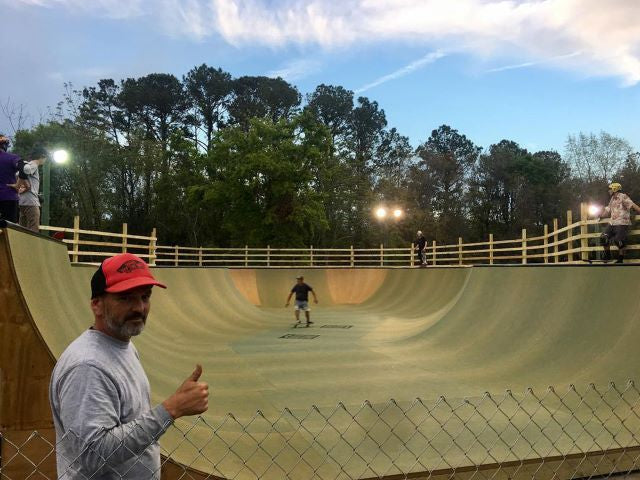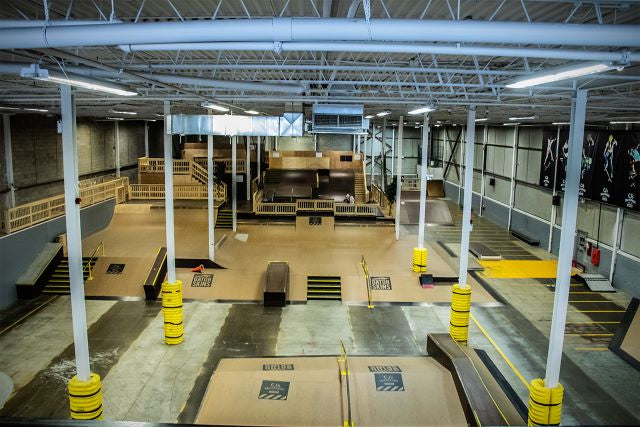 **Each Panel Sheet comes 48" wide x 94" long**
Pre-Drill Option: Get your Gator Skins pre-drilled, pre-countersunk & cut to size for a small convenience fee. This special option is only valid for OC Ramps products (sorry DIY ramp builders). It takes the additional headache and hours of drilling away for a small convenience fee. This is well worth the service of having these sheets prepared for you and your new skate ramp.

** We use a 1/2" countersinking bit with 1/4" head screws **
Difference of Gator Skins: The basic formula used to create composite panels for skateboard ramp surfacing has been in existence for over two decades. It consists of layers of paper, saturated with phenolic resin, then pressed and cured. With Gator Skins, they've simply taken a proven product, applied superior chemistry and achieved a much higher level of performance. Their panels are formulated to provide an optimal interaction with urethane (skateboard) wheels.
Resin – produced in-house – is the secret sauce that sets Gator Skins apart. Their chemists are able to customize it to exact specifications, which results in the optimum density, hardness, flexibility, and level of grip. These are the factors that determine not only the durability of the product but the quality of the ride.
Thick weather proof panels. From humidity to pouring rain, snow and everything in between. We challenged mother nature to a fight with these panels!
Get free shipping with any qualified Halfpipe or Quarterpipe ramp.
*Shipping costs are subject to change upon product quantity & delivery address*
Specifications

Color: Reversible - Brown, Green
Width: 48 inches
Length/Depth: 94 inches
| | |
| --- | --- |
| | |
| 1. Highest class exterior lumber and plywoods | 2. Pre-counted rust proof screws and instructions booklet with pictures |
| | |
| 3. Galvanized metal parts that prevent rusting | 4. Pre-cut and Pre-drilled boards ensure simple installation |
| | |
| 5. Computerized cut pieces guarantee a perfect slope | |
The internet has all sorts of terrible ideas as to how to quiet or dampen the sound of your skateboard ramp - in particular the mini ramps (or halfpipes).  
You may read about wives tales on using insulation, filling the coping with whatever, or add pillows and blankets behind the ramp.  We are here to clear the air….that is all nonsense.  
There are really only 2 suggestions to help quiet your mini ramp.
You can close up the back of your skateboard ramp with ¾" thick plywood.  This will eliminate the hollow sound significantly.  Again, don't read into the bogus information about filling in that empty space before you close it up with plywood.  It doesn't work.  Simply closing up the backend will help with the noise.  Some customers will get creative with it- we've seen several put hinges on the backend - making a custom door for storage, etc.  That is entirely optional to make use of the space.  But in terms of noise levels, close it up.


Also using a softer gel wheel is helpful to give you the incognito vibe your neighbors won't complain about while shredding your skateboard ramp. Generally the harder the wheel, the louder they hear ya coming! Many skaters have multiple skateboards with a different set of wheels, most prefer the harder wheels during normal street skating use & then at night we switch over to the gel softer wheels so your neighbor's can get their precious sleep & you can shred your heart out!  Not every skater likes riding a gel wheel.  There are many pros/cons.  For this conversation, the biggest pro for having a softer wheel is the reduced noise factor.  If you have neighbors that are goin to be a narc, just throw on the soft wheels!